Video game tax credit : how to benefit from this tax incentive
Video game tax credit : a powerful tax incentive for video creators
You are video game editor and you wish to implant yourself in Europe? Consider France, along with its skilled labor in this sector and its video game tax credit, which can go up to M€ 6 per year.
Principle
The Video Game Tax Credit (CIJV: Crédit d'Impôt Jeux Vidéo in French) is aimed at subsidizing costs incurred by companies to develop & sale videos games.
Which companies can be eligible for the video game tax credit?
The company has to be subject to corporate tax in France. Hence, it can be either a branch or a subsidiary of a foreign or French corporation.
The tax credit is reserved for companies that create video games. In accordance with the Movie Code, a company is deemed to be a video game creator (i) if it is responsible for the artistic and technical production of the video game and (ii) if it initiates and incurs the expenses needed to create the video game.
What are the video-games targeted by this tax credit ?
The video games should abide by the 4 cumulative conditions:
The video-game complies with the definition stated by the Movie Code (Artistic creation, interaction with users over a simulated storytelling, thanks to animated pics) & conveys a contribution to the diversity of the French or European creation,
Costs of development exceed K€ 100 and the game is (or slated to be) sold,
Artists or creators are citizens of one of UE's countries and violence needs to be contextualized,
The video game is agreed by the Centre National du Cinéma (a public authority).
Calculation
In practice, (i) all costs required to produce the video game are eligible for this tax credit: personnel costs assigned to the creation of the game, copyright, subcontracting if stemming from the EU zone (capped at 2M€), equipment depreciation, etc.), (ii) minus subsidies.
Eligible expenses are capped at 20M€ over a 12-month fiscal year. It enables a 30% tax reduction. In other words, the tax credit is capped at 6 M€ per fiscal year.
Can the company this tax credit be accumulated with others?  
The company which claims  it can also benefit from all innovation-oriented tax credits such as
the Collaborative tax credit (CICO, Crédit d'Impôt Collaboratif in French),
the Innovative Tax Credit (Crédit d'Impôt Innovation),
the Young Innovative Company status (JEI: Jeune entreprise Innovante in French).
However, the same expenses can be used for one scheme only. (Expenses of some programs may overlap each other)
 To sum up the video-game tax credit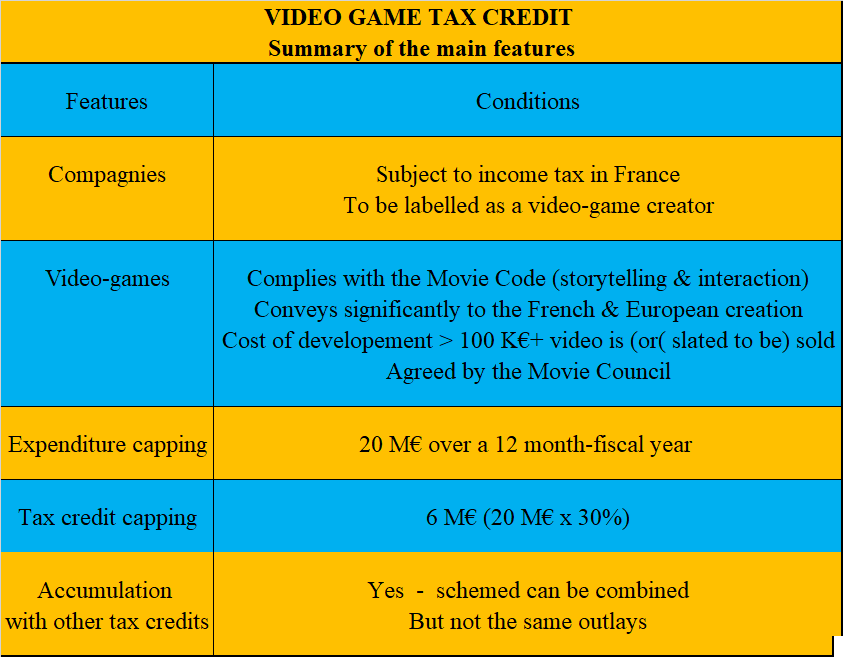 Need more information?
https://www.jcarmand.com/en/wp-content/uploads/2014/07/tax-incentives-subsidies-france-11.png
905
1030
Jean-Claude Armand
https://www.jcarmand.com/en/wp-content/uploads/2015/09/start-business-france-paris-2.png
Jean-Claude Armand
2014-07-11 23:30:36
2023-03-23 18:54:46
Video game tax credit : how to benefit from this tax incentive